WARRENSBURG, ILLINOIS DEPOT
This postcard was in my grandfather's things. It was published by C.A. Dresbach, and it looks like Nottleman Lumber is on the left in the background.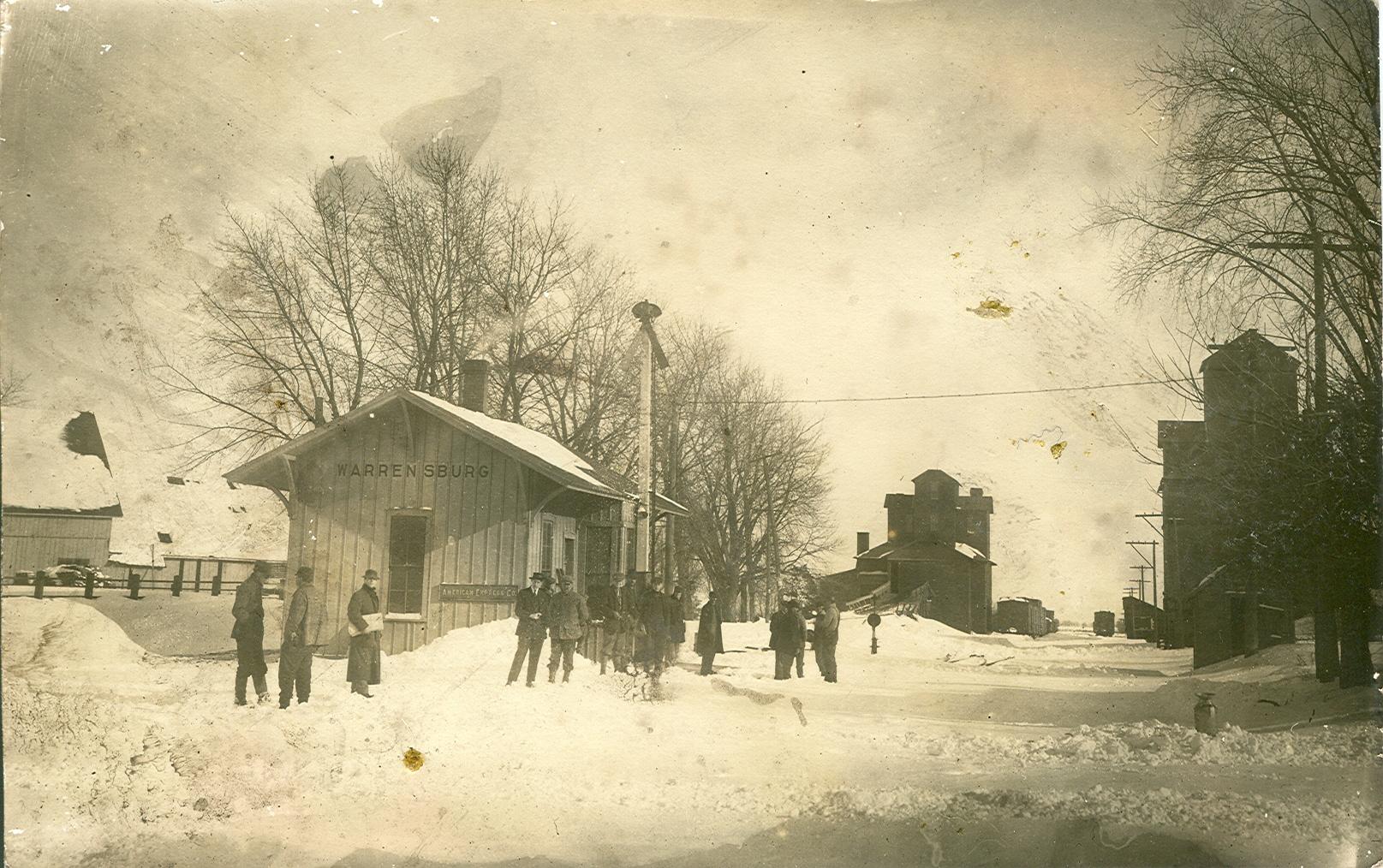 WARRENSBURG, ILLINOIS DEPOT IN WINTER

Some of the following information was gleaned from Rural Schools of Macon County which was printed 1978 by the Macon County Historical Society. The photo of the school is on pages 284 and 285.
The village of Warrensburg was laid out in 1872. By 1877 the school classes had grown so large that a two-story, two-room school house was built, and later became the graded school. It consisted of one room downstairs and one room upstairs with the steps running up at the north end of the ouside of the building.
In 1890 enrollment had increased to fifty-six students which included thirty-seven males and nineteen females ranging from six to thirteen years of age. The enrollment was larger than the building could accommodate so a part of the advanced pupils were taught in the Church of God Chapel and later in Ed White's opera house. Two rooms and a hallway were added on the east side of the old structure in 1893. The old church bell was purchased from the Church of God and was hung in the school belfry where it did a good service through the years.
In doing further research, I learned that C.C. Getter (Charles C. Getter), my grandfather's uncle from Pennsylvania, was one of the principals after 1898. In 1917 the old wooden building was replaced with a fine new brick building. It opened with J.E. Hursh (my grandfather), Miss Goodwin, Julia Faith and Minnie Vaught as teachers. The new brick building became the Village Grade School when the Community High School was erected at the northeast corner of the town of Warrensburg in 1923 (That's where I attended for 3 1/2 years until the 'new' high school was completed!).
Helen Ingram (Mrs. Horace) Brown attended Warrensburg Grade School from 1910 to 1920 when she graduated from the 10th grade. In 1920 Warrensburg voted to build a new four-year high school. Two more years of high school were added at once and in 1922 the first high school accredited class was graduated from what eventually became the Grade School building."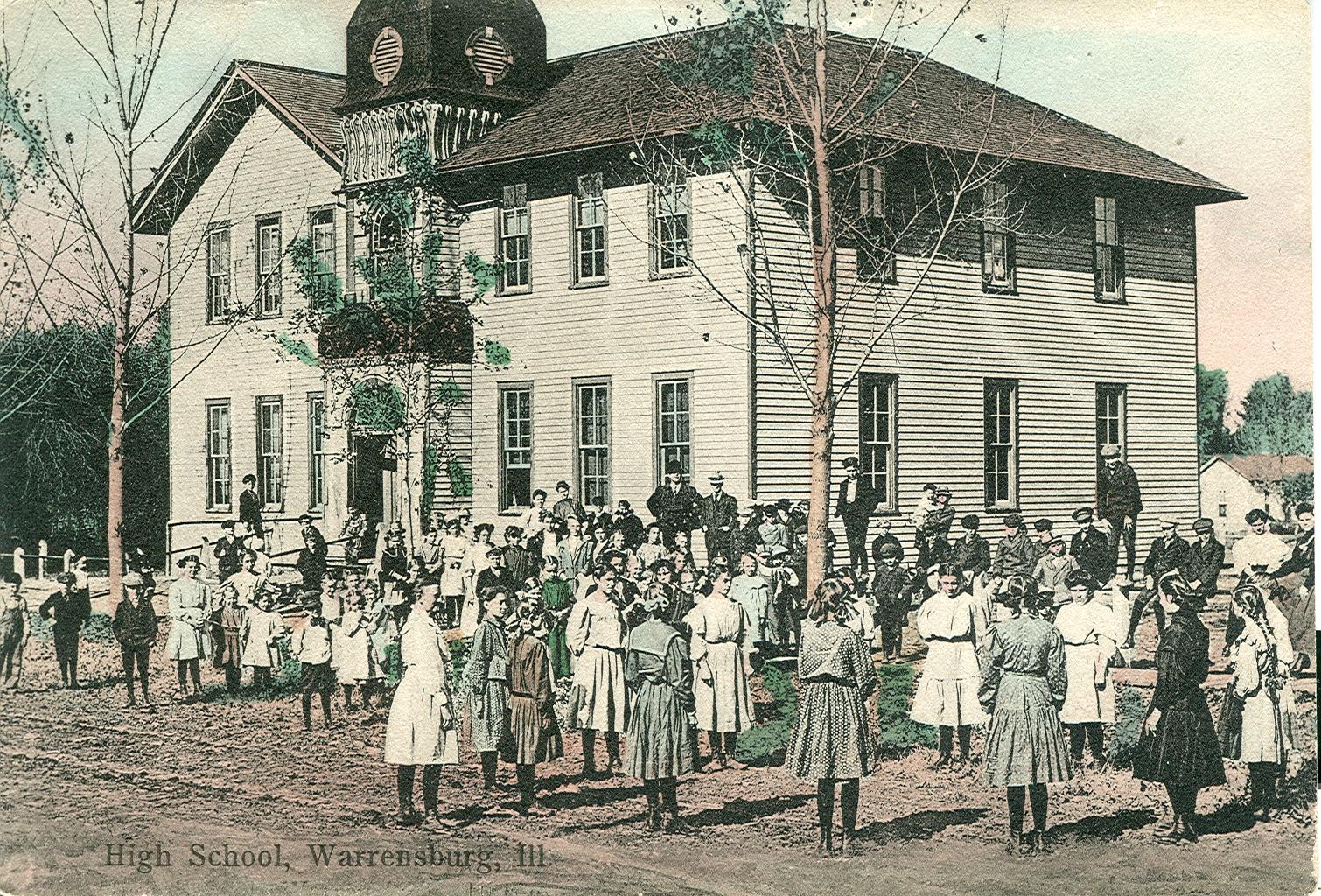 This colored post card says Warrensburg High School, and was published by C.A. Dresbach, Warrensburg, IL; printed in Germany.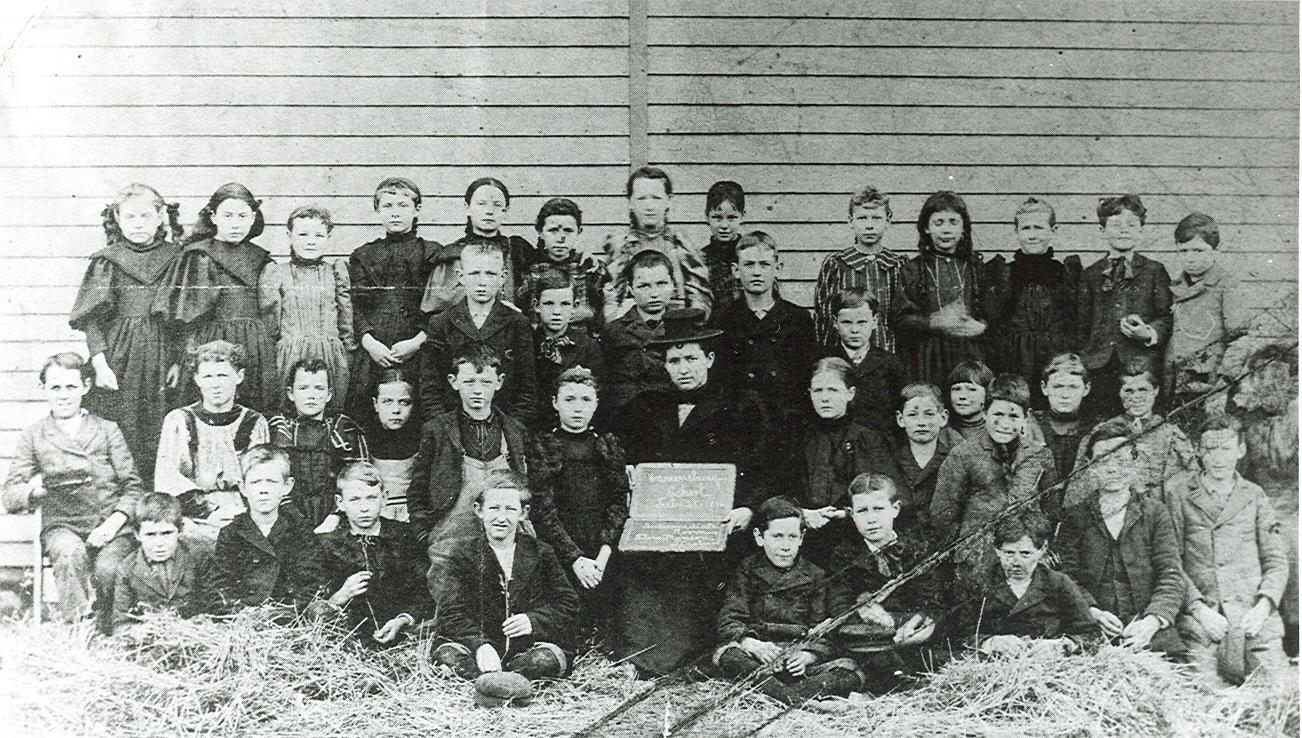 This group picture was taken at the Warrensburg School. In this photo my grandfather, Joseph Elmo Hursh, is on the back row, the last on the right. His brother, Harry Cole Hursh, is on the front row, third from the right (the short one).

Warrensburg Elementary School. This photo was probably taken in 1924 at the same time as the Athletic Meet pictures that follow.

COUNTY SCHOOLS ATHLETIC MEET 1924
This photo was probably taken outside the Warrensburg Elementary school.

A Street Race? in WARRENSBURG, ILLINOIS - Blurry, date unknown

WARRENSBURG ELEMENTARY FIRST GRADE CLASS
Front row (left to right): Sandra Chapman, ____, Sherry Lowe, ____, Judy Albin, Johnny Lehn, Sandra Zinn, Jay Butt
Middle row: Pam Barclay, ___, Sally Hursh (submitter), Andrea Brown, Barbara May, __, Finlay Yokley, Larry Frances
Back row: Fay Boyer, Mary Lobb, David Holtzmann, Charlene ___, Ronnie Belcher, Stephen Janvrin, Donnie McGeorge, Dickie Downey, Mrs. Pyrle G. Barclay
To read Mrs. Barclay's obituary, click here!

WARRENSBURG ELEMENTARY SCHOOL in 1970
Many who lived in Warrensburg will remember this old school. The school was sold in 1975 and was occupied for a time by the Barclay Public Library and the Masonic Lodge. It was later converted into apartments.

HOME of WARRENSBURG ELEMENTARY'S JANITOR HARRY "KING" OAKES
This photo was taken in July 2003. The house is situated to the north of the old elementary school on West Main street. At the time I was in school, "King" lived in this house with his mother. Originally the house had a porch on the front and if you look close you can see the line where it was attached to the house. The porch was removed post 1967.

BATCHELDER SCHOOL
This school was located on the North East Quarter of Section 29 of Illini Township, Macon County, IL.

BATCHELDER SCHOOL - 1912
This photo appeared on pg. 50 of Rural Schools of Macon County, published in 1978 by the Macon County Historical Society. The teacher was Pearl Robbins Sibthorp.

BRICK SCHOOL HOUSE
I attended this country school, located west of Warrensburg, when I was in the third grade. Though it was later used as a house, it still looks the same on the outside.

THIRD GRADE CLASS AT THE BRICK SCHOOL HOUSE - 1949-1950
This is my third grade class at the Brick School taught by Mrs. Lillian S. Knowles.
Left to Right, Front Row: Sandra Chapman, Sandra Zinn, Judy Albin, Andrea Brown, Tommy Binckley, Gerald Lowe, Jerry Litz, Johnny Lehn
Middle Row - Mary Lobb, Sally Hursh (submitter), Larry Frances, Finley Yokley, Billy Boyer, Donnie McGeorge, _____, Ronnie Belcher
Back Row - Stephen Janvrin, Fay Boyer, Mayme Harmon, Barbara May, David Holtzmann, Dickey Downey, Mrs. Knowles
Notes: One student, Alice Ingham, was absent for this picture. She always rode her horse to school.

AUSTIN SCHOOL IN AUSTIN TOWNSHIP, MACON COUNTY, IL

ILLINI CHURCH and CEMETERY
I was told that the shed in the left background was where the horses were stabled.

AN UNDATED PHOTO OF A "CORNSHOW" IN WARRENSBURG

THE TRAIN DEPOT AT HARRISTOWN